Is Retention the Answer?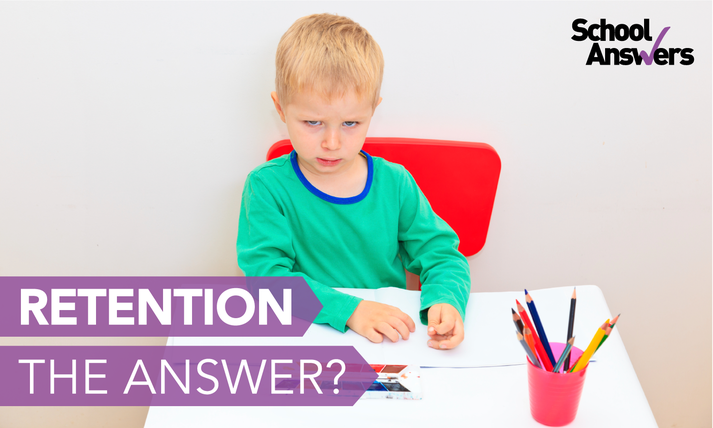 You have your doubts about whether your child is progressing the way he should. You're wondering if his social awkwardness is part of his personality or a sign of immaturity. You also have questions about whether he is ready for new academic challenges.
These issues have you wondering should you "redshirt" your preschooler or hold back your second grader. The answer isn't an easy one. It's a decision fraught with emotion and worries about your child's future.
"I am often approached by parents asking me if I think they should hold their child back a year. That answer is a personal one based on the individual child. There are so many things that need to be taken into consideration before making a final decision," says Stacy Costa of School Answers Academic Success Center.
First let's consider your four year old who's eligible for kindergarten this fall. You may be thinking of giving him another year of pre-school or "redshirting" him. (The term comes from high school and college athletics. It's used when an athlete is held back for a year in order for him to grow and mature.)
The research may not help you. It's both contradictory and inconclusive. Most educators agree younger children can use an extra year to mature and gain more self-confidence and to hone their social skills. When it comes to boosting academic skills, there's documented evidence redshirting can help, but that initial boost may or may not last very long.
Educators also caution that some cases of "immaturity" could actually be undiagnosed special needs, and those children could be set back by not receiving the help early on.
There's also the question of what holding your younger child back will do to him emotionally. How much of an age gap will exist between him and his new classmates? How will he feel about being "left behind" by friends? These are questions not easily answered, but which bear some thought.
The research on holding an older child back currently discourages the practice. The majority of peer-reviewed studies indicate holding a student back has little long-term benefit, and may instead be harmful.
The studies say parents and schools should consider a child's social and emotional welfare when making a retention decision. There's the question of whether a child held back will be motivated to learn or embarrassed by the move causing him to withdraw or act out.
Costa says, "For some retention works out just fine, but many parents forget to look ahead. It is very important to look at the child's age at graduation when trying to decide. You can't only consider the 9-year-old sitting in front of you; you have to realize because of your child's birth date he may be 19 before graduation. It's a decision that should not be taken lightly and should not be done without a full battery of diagnostic testing."
School Answers Academic Success Center can help you find out what's keeping your child from being the best student he can be. We provide testing to pinpoint learning difficulties and help you formulate a plan of action. We also offer tutoring either in a one-on-one session or a group setting. Our teachers are New Jersey State certified and specialists in their fields. Let us help your child by contacting us today.
School Answers is where Smart Kids Get Smarter.
Sources:
Repeating a Grade: the Pros and Cons
Colleen Stump, PhD

New Research suggests repeating elementary school grades-even kindergarten-is harmful
Education by the Numbers
Should Children Be Held Back for Kindergarten?
Jennifer Breheny Wallace

When Should Kids Start Kindergarten?
Jessica Kelmon
http://www.greatschools.org/students/academic-skills/4165-redshirting-kindergarte